Our Mission
The Quincy Humane Society is committed to the welfare and responsible stewardship of animals:
We believe all living creatures possess intrinsic value
We shall provide shelter and care for animals
We will provide programs and services that enhance the companion animal-human bond
We will foster compassion building through education
We shall be advocates for animals; a voice for those who cannot speak for themselves
We will enrich the communities we serve
Thank you for learning more about the Quincy Humane Society. Below you can meet some of our wonderful staff! Please contact us with any questions or concerns.
Reggie
Executive Director
Email: voluntr@adams.net
Reggie manages the day-to-day operations while being the liaison between the Board of Directors, staff and volunteers. She also is the main contact for community relations, fundraising and all animal welfare issues.
Pilar
Community Relations and Fundraising Director
Email: voluntr@adams.net
Contact for….
Fundraisers/Events
Information about Volunteering
Tours/Birthday Parties
Becoming a Foster
Jill
Clinic Manager
Email: animals@adams.net
Contact Jill about…
Questions about our vaccination clinic
Questions about spay/neuter clinic
Making appointments
Your pets vet records
Dr. Jodi
Veterinarian
Jodi performs all of our spay/neuter surgeries
as well as manages the health of all shelter animals
Annsley
Adoption Manager
Email: findapet@adams.net
Annsley works with interested and approved adopters
to find homes for our available animals
Contact Annsley about…
Adoption process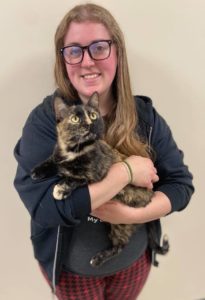 Stephanie
Intake Coordinator
Email: operations@adams.net
Annsley works alongside Jodi with maintaining
the health of all shelter animals
Contact Annsley about…
Surrendering an animal/intake
Fostering
We are fortunate to have a great Board of Directors:
· Joshua Jones, President, Assistant Adams County States Attorney
· Victoria Kelley, Vice President, Table 16 Productions
· Melanie Allen, Board Treasurer, Shortridge Construction
· Sue Allen, Secretary
· Kristopher Kutcher, Executive Board Member at Large , 3 Branches Salon
· Sally Westerhoff
· Brandy Blickhan-Ridder, Brand Advantage
· Mark Ehrhart, Kohl Wholesale
· Kathy Goltz
· Brittany Vermeire, Gardner Denver
· Damion Dodd, Blessing Health System
· Zeke Cernea, Quincy Gymnastics and Tumbling
· Tressa Dodds
·Amy Kientzle