We offer many programs and services at the Quincy Humane Society. Some of these are listed below. For more information, please contact us. Our programs include:
Rover's Run Dog Park
Mom's Last Litter Program
Cremations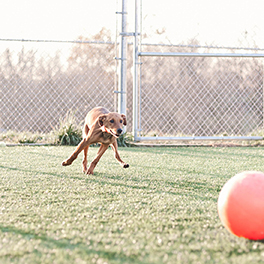 Rover's Run Dog Park
The Quincy Humane Society offers the area's only dog park. Open daily from dawn to dusk, our off-leash park allows for socialization and exercise. The park offers separate areas for small and large dogs. Doggie water fountains are available on both sides of the park. All dogs must wear a buckle-type collar with a current rabies tag and a Quincy Humane Society Dog Park tag, which is given upon registration. Puppies under the age of 6 months are not permitted for their safety and health.
To register, please stop by the Quincy Humane Society.
The cost is $10 per year and allows unlimited park access!
Mom's Last Litter Program
If you find yourself with an unwanted litter of puppies, please contact us. The Quincy Humane Society can help.
If you bring us your puppies for us to adopt, we will spay/neuter and vaccinate the parents at no cost. Rabies tag fee may apply.

Meet Lola
She is a 3-year-old Pit Bull and she's shared two litters with us.
Her first litter was in February 2021. One of our fosters took mom in while she gave birth to five puppies. Those puppies were all adopted. But, now Legend has come back to our care. He is a sweet, fun-loving, and energetic 1-year-old.
After multiple failed attempts to schedule Lola's spay, she became pregnant again. Lola was surrendered into our care in the process of labor. She gave birth to nine puppies right here at the shelter in August of 2021. Unfortunately due to a birth defect one did not make it. After some TLC in foster care, Lola and her last litter came back to the shelter for adoption. All of her second litter has been adopted (see Lisette pictured below)
Lola is still waiting for her forever home!
Cremations
Let us keep the memories alive for your cherished companion by allowing us to preserve their remains and make available a lasting memorial urn. Although we are a No-Kill shelter, we do provide cremation services to the public. Private cremations are $130 and groups are $50. Call the shelter today for more information on our cremation services.